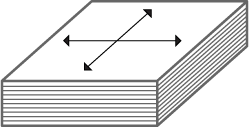 Manufactured from beech veneers, impregnated with synthetic resins and densified under extremely high pressure and temperature.
As seen below the veneers are compressed alternatively at 90° resulting in a material with uniform strength and stability
Grade:
KP20228
Colour:
Sheets are supplied in natural brown
Stocked:
12mm, 16mm, 18mm, 24mm & 32mm
Thickness:
6mm to 120mm
Technical Aspect:
Complies with DIN7707
Size:
Standard sheet size is 2000mm x 1000 mm
Applications:
Switchboard Bus Bar Supports
Description:
Densified wood is based on the use of selected beech veneers in combination with synthetic resin. Lamination is carried out at high surface pressure and elevated temperature. Grade KP20228 is manufactured with veneers compressed alternately at 90°, which results in a material with uniform strength and stability suitable for a wide range of applications, which includes support for bus bars, cables, switches and circuit breakers.
This product is sometimes refered to by the brand names Permali® or Lignostone®